Your Google Business listing has new features! Here's how to enable them so you get more traffic & leads!
As we all know, Google is constantly changing and updating. They are continually improving to give the utmost superiority when it comes to user experience. Your Google business listing needs to have the most user functionality as possible, is your listing up to par? Check out the updates Google has recently made to take your business listing to the next level. 
The recent changes they have made for your Google business listing are great! They are easy to enable and offer a lot more opportunity for traffic and accessibility for your customers. 
So first things first. Make sure you have your listing verified. Your listing is basically a storefront for your business on Google, and you want to make sure you have control of it so you can leverage the most of it. So make sure you claim your business and then go ahead with the verification process. 
Now you will have the very valuable right hand listing that you see in the image below
And this will improve your overall SEO
Google business listings are making it even easier for you to get leads. They now have several new features you can enable on your listing for full optimization of lead generation. 
I read an amazing article by Neil Patel that goes into depth on all of these features and changes and how to enable and leverage them. You can find everything from the article below as well as the link at the bottom. Enjoy!
Welcome Offers
What's one of the easiest ways to generate more sales?
By offering discounts and coupons, right? Just think of it this way, if it didn't work, Cyber Monday wouldn't bring in $7.8 billion in sales.
Google knows that people are looking for ways to save money and find good deals. With this new feature, businesses can reward their customers by giving them welcome offers.
By following your business, they can get first-time deals and always keep in touch to see when new deals are posted.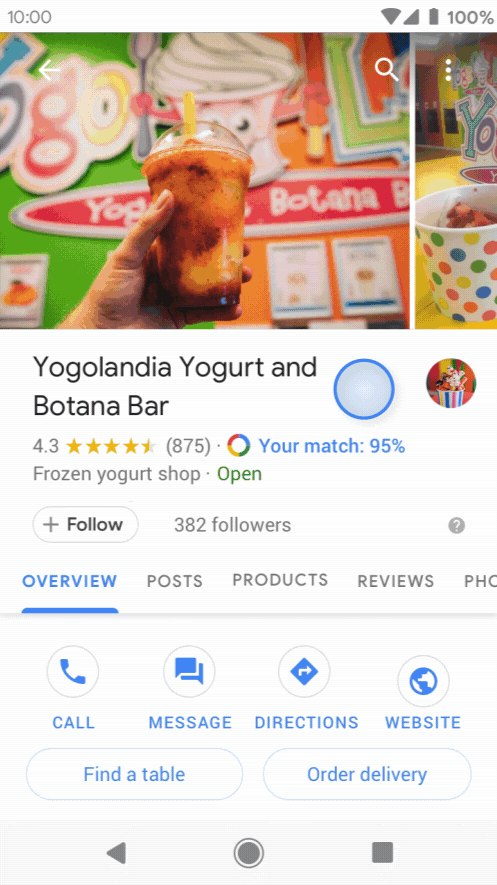 Not only will this bring you new customers but also repeat customers because people will be notified every time you have new deals.
To set up a welcome offer, open your Google My Business app and tap on your profile. Under "Turn followers into customers," click on 'Create Welcome Offer' and hit 'Create.'
You can enter the following information in your offer:
Title (30% off oil changes)
Description
Coupon Code (Optional)
Terms and Conditions (Optional)
Website (Optional)
Once finished, you can preview your message and publish. For notifications on new followers, and editing or deleting offers, you can read more on Google Support.
Generate leads in just a few clicks
Google is now adding a "Request a Quote" button in your business listing which was discovered by Joy Hawkins and can also be seen on mobile when searching branded terms.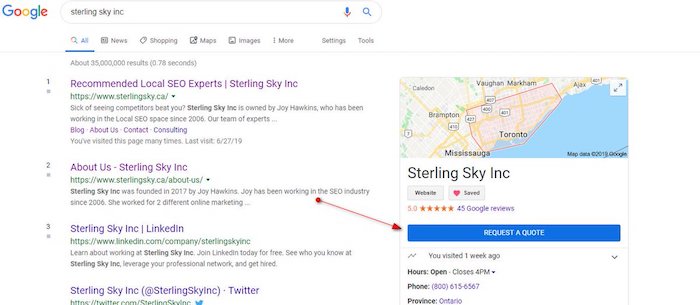 This is happening with businesses that have the Google My Business messaging feature on.
To enable messaging, open the Google My Business app and go to your listing.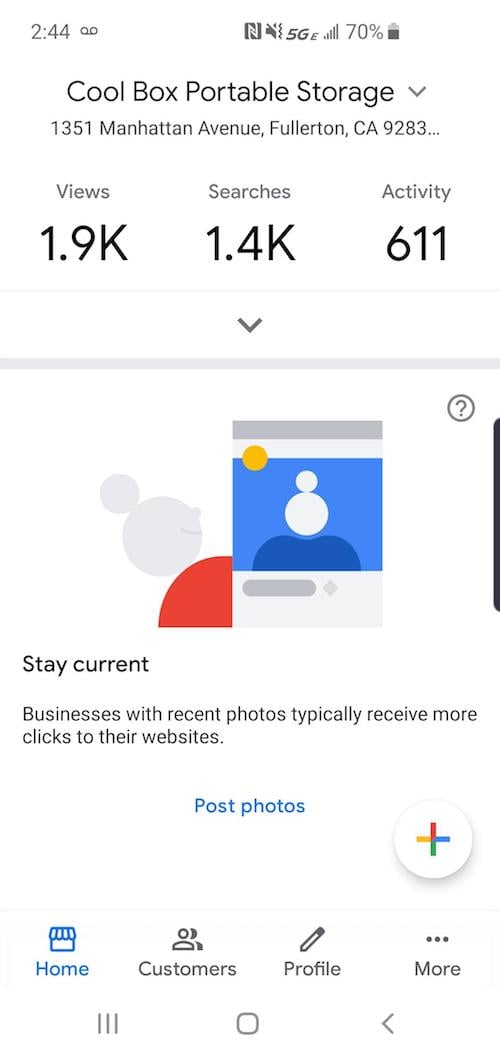 Navigate to Customers -> Messages and turn on!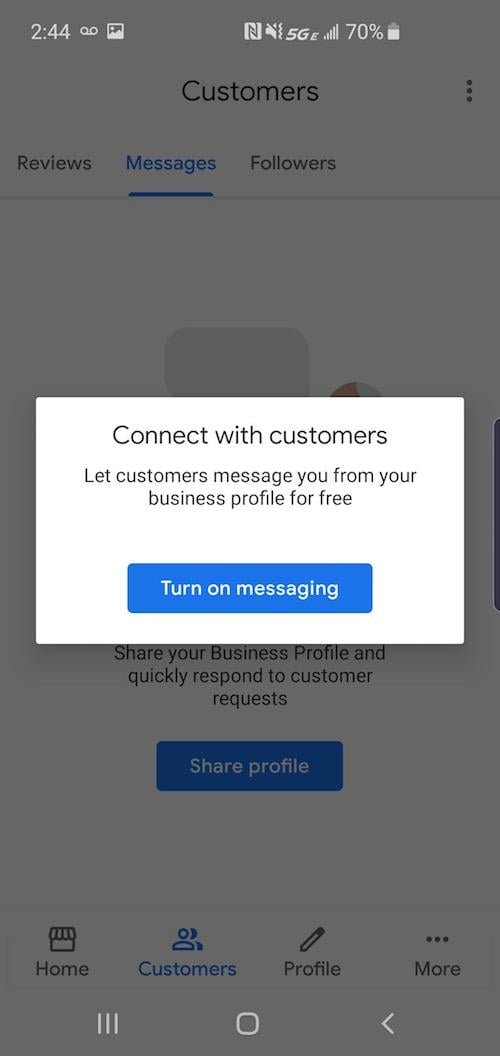 People will now be able to ask for quotes on cars, insurance, and pretty much any service out there.
You can even review these quotes and reply to them within the Google My Business App and connect with your customers easily for a quick sale.
Make sure you claim your URL
Businesses can now claim a Short Name and URL for their listing.
If you haven't claimed your URL, make sure you do so before it gets taken by someone else.
Don't get too crazy though as you can only change your short name three times per year. You can enable this by navigating to your locations page, click "Info" on the left-hand side, and see "add short name".

You may not think this is a big deal, but if you have used Google My Business before, then you know it's not easy to share your profile on business cards, emails, and text messages without posting a huge URL.
With short names, your landing page will show as g.page/businessname and can be easily shared.
A business can choose a name between 5 and 32 characters and it can contain the business name, location, and more. People can still flag a name for impersonating another business or if the name is offensive, fake, spammy, or contains inappropriate terms.
So, remember not to violate any policies with your name.
I recommend doing this as it will make it easier for your customers to refer back to your profile where they can read updates, post, make reservations, read/write reviews, and more!
And eventually, people will be able to search short names in Google Maps to find the businesses they love.
Google Assistant
Google is now letting customers order food from restaurants and stores via Google Assistant, which is delivered through DoorDash, Postmates, Delivery.com, Slice, ChowNow, and Zuppler, with other partners possibly coming soon.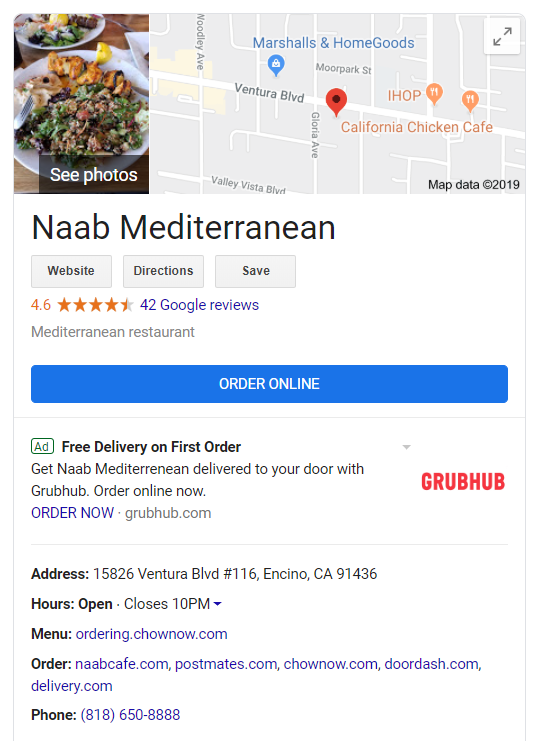 Users can click on Order Now on the listing and can choose pick-up or delivery and if they want to order ASAP or schedule for later. Payment happens through the default payment on Google Pay. If they do not have one, they will be able to add credit card information through this too.
Additionally, customers can order food by using Google Assistant by saying "Okay Google, order food from [restaurant]." If the user has ordered before, it will let them see past orders.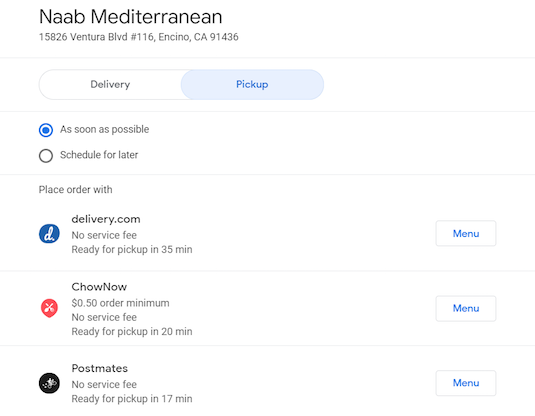 Updating your menu online, as well as delivery service carriers and their apps will help get you started on this.
You'll want to make sure your menus are consistent through all your service carriers to get the best orders to your hungry customers.
And of course, I know there is a good chance you don't have a restaurant or aren't in the food delivery business, but expect to see more ways Google My Business gets integrated with Google Assistant.
It's better to be early than late.
And speaking of food, Google has also added the popular dish tab on your menu which features images and menu items that people love the most.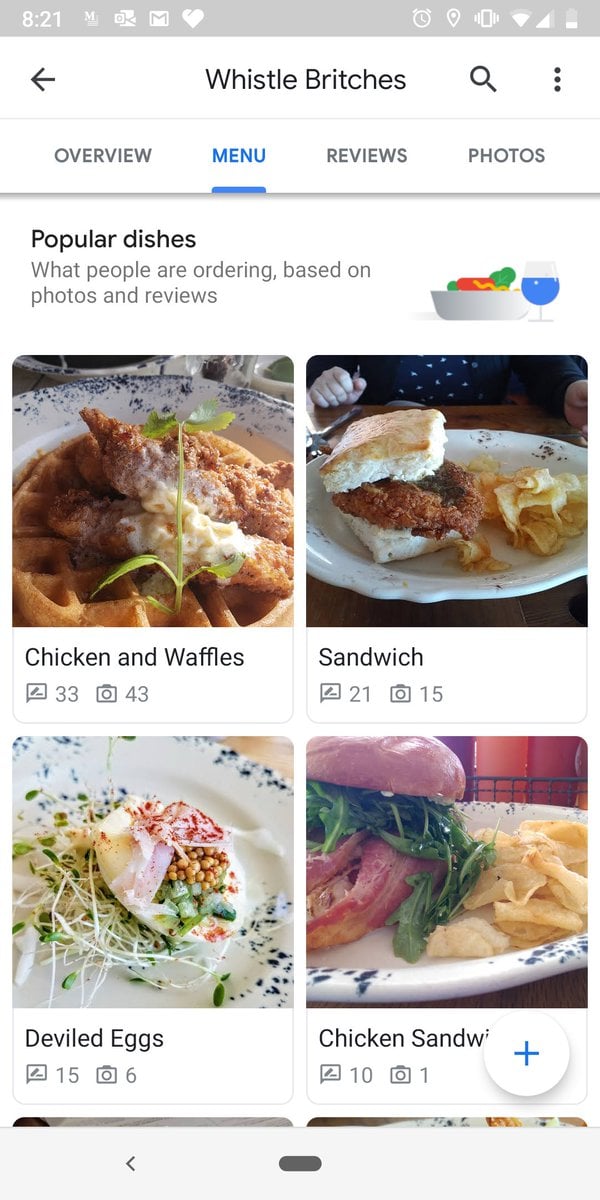 This scans reviews and images on your Google My Business profile to find the most commonly mentioned dish and adds it to your popular dish tab. Of course, if anything is wrong, you can suggest edits to these.
This helps if there are dishes without names, wrong names, or typos can be fixed.
Auto-generated posts based on reviews
Look, you are busy, but you have no choice but to create content.
Google has given you easier ways to generate posts… in essence, they are now creating auto-generated posts for you.
These recommended posts are suggested through customer reviews on your Google My Business profile and are similar to their Small Thanks program, which tried to get you to highlight reviews given by previous customers on social media and even being able to print it out and display it on your business walls.
You are probably wondering why should you use it, right?
This helps keep people engaged in your profile if you haven't posted on Google My Business in a while and gives you fast and easy publishing. It even gives you options to customize backgrounds with images and colors.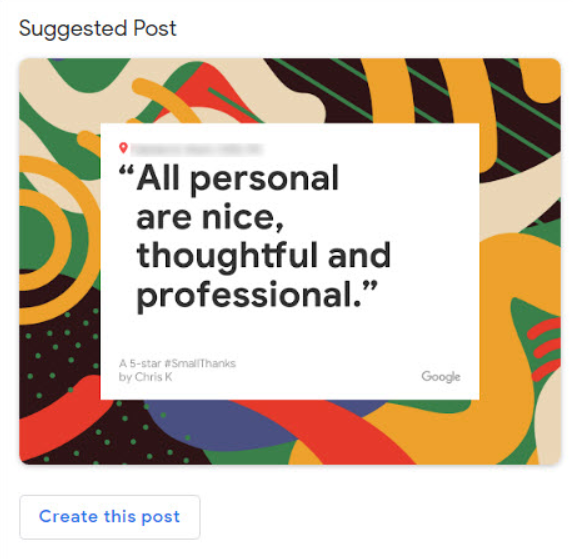 This will pop up on your Google My Business dashboard and all you have to do is hit "Create this post".
There's no real way to pick other reviews for Suggested Posts, but you are always welcome to create your own. This is just a simple feature created to help engage your audience more.
Boost your conversions by controlling your images
Businesses can now set a preferred profile cover photo in your image carousel and have a place for logos at the top-right of your profile next to the business name.
This is an additional feature to the regular NAP (Name, Address, Phone Number) as well as business hours and will be prominently featured.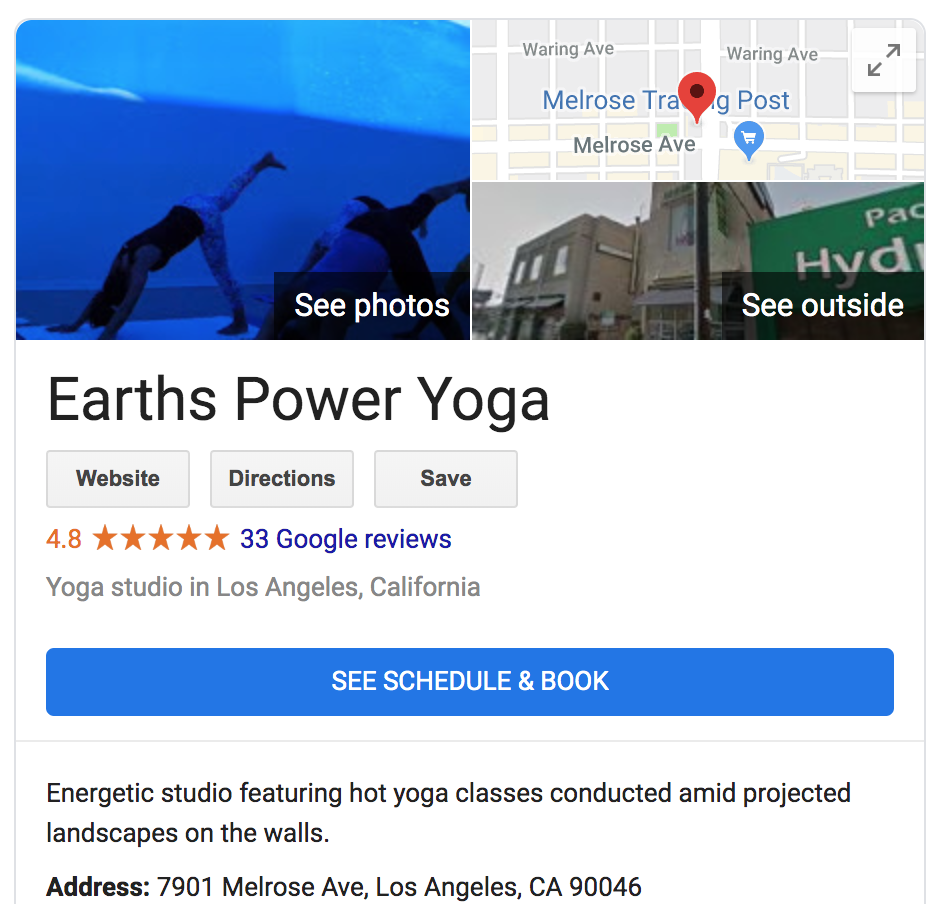 You can easily create offline material
Google is launching a website where businesses can order and get custom promotional items such as stickers and posters to advertise their business. This is in hopes that it will entice customers to follow places on your profile, add reviews, and create bookings.
You can even order signs like 'follow us on Google' and more for free (one shipment per location).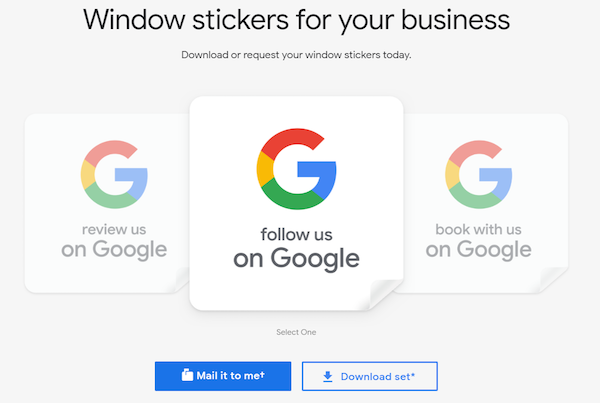 For posters, you can use the editor to create your own type of poster that can be downloaded and easily printed by yourself or a local printing company. If posters aren't your cup of tea, you can even share these on social media.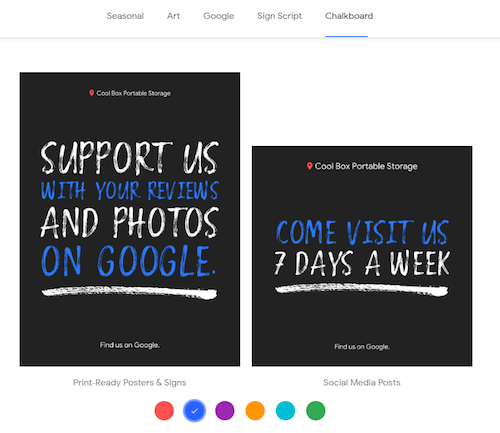 This is currently free as it is a downloadable offer, but you may want to pay to have someone print this out in poster size or as stickers to put on your business windows.
Just think of it this way, people put Yelp signage everywhere because it works. Chances are, it will work on Google as well.
Place Topics
Google launched Place Topics which uses data based on reviews to help give information on what previous customers think about your business.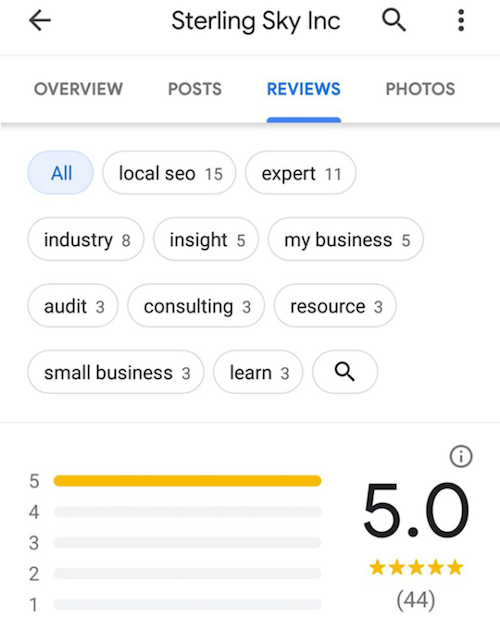 This can help users see themes of reviews at a glance for businesses and it's all automated.
It's kind of like a tag cloud.
This does mean that you cannot generate these yourselves or edit them. So, if you don't have one, you may not have enough reviews.
Also, if you have a negative one, there's potentially no way of removing this unless you get the review removed. So, make sure your happy customers are leaving reviews is very important.
Possibly entice them with a 10% discount the next time they come… assuming you aren't breaking any policy guidelines.
Q&A Auto-Suggest Answers
This feature that Google updated uses previous answers to questions and Google My Business Reviews to answer new questions on the spot. As you start writing the question, different answers start to pop up to give you the best match.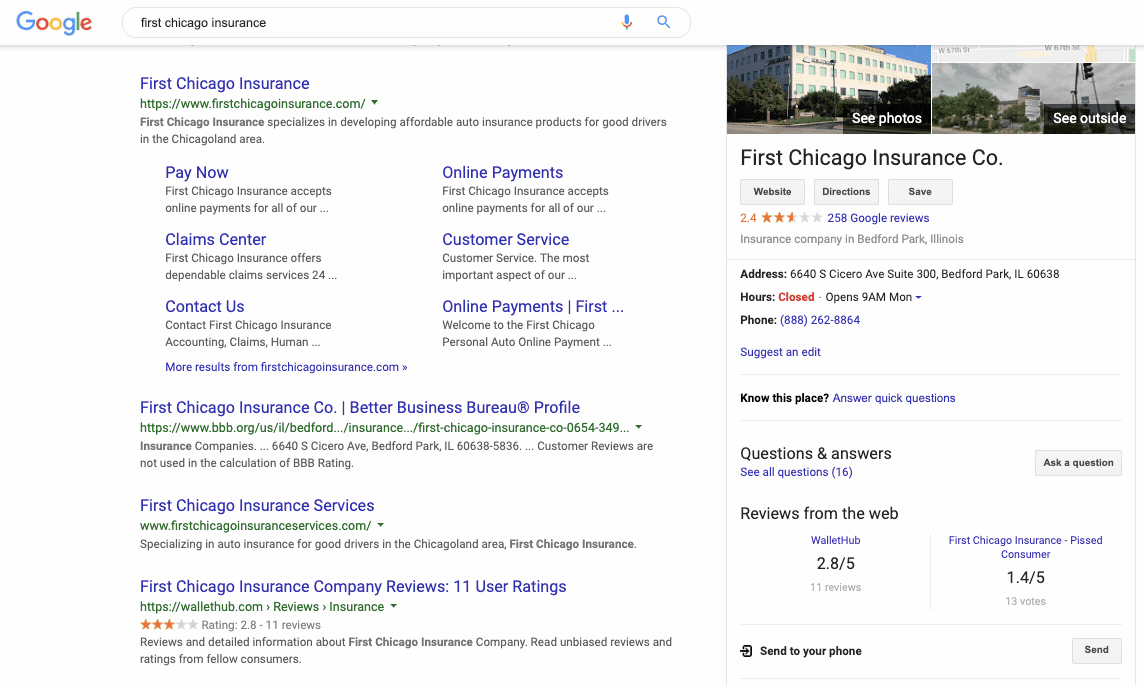 So how can you make sure people get the most accurate answer?
Similar to place topics, encouraging your customers to leave detailed reviews of their experience really helps. The more detailed the review is, the better the question gets answered.
Of course, people who are searching for answers can potentially see negative reviews such as prices are too high, service takes long, very long waits on weekends, and more.
In other words, always encourage positive reviews from your loyal customers.
Conclusion
If you haven't used Google My Business before, you should check it out. With their updates and new features, it is now easier to generate sales and collect leads.
In the future, you'll see a much deeper integration between Google My Business and Google Assistant. This is going to be important as 50% of the searches will soon by voice searches according to ComScore.
Make sure you are leveraging all of these features and releases Google is launching because it doesn't cost you money and if you get in early enough, you'll have an advantage over your competition.
So are you using Google My Business to it's fullest extent?